Eagle Creek Exotics
Seattle, Washington

Thank you for visiting our Web site. Eagle Creek Exotics is under new ownership. We are now located in Seattle, Washington.
We provide a large assortment of ABS plastic nestboxes, ABS is easy to clean and sanitize and will last for years. Browse through our designs and if you don't find one you like, Let us know and we will custom build the nestbox you need.
Delivery time may vary as we are a small company. We do not mass produce our nest boxes. It is a part-time venture our family enjoys along with raising birds, and a full time career.

If you have any questions, you can contact us by email.
Thank You for visiting...... Julie
We can help you choose or design the nestbox that will work best for you. As an aviculturist, I have an extensive background with many different types of birds and work with a co-op of many different breeders in my other business.
I have been involved with Aviculture my entire life. My Mother raised birds when I was a child, My Brother raised birds when I was a Teenager, and I have been raising birds as an Adult.
I have worked and owned both retail and wholesale companies. I also own Bird Lovers Connection which is a wholesale company providing quality handfed birds to pet Stores, and I am licensed as a Pet Store --required regulation in my area.

My Aviary is Caique Country USA, specializing in both Black Head and White Belly Caiques.
I am the Founder and current President in Bird Lovers Social Club and an Avian Education Committee.
I have had experience with hundreds of birds of many different species during my 30 years in Aviculture.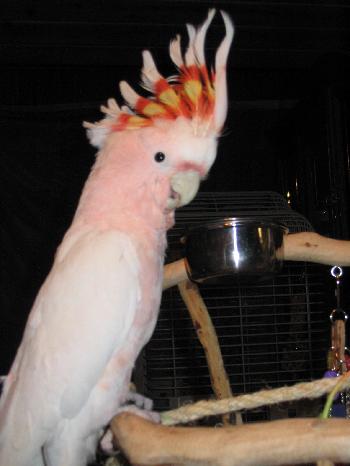 Koddi-- Major Mitchell Cockatoo